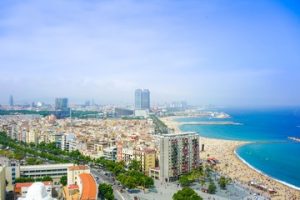 Can we talk about Greece? This is more than likely the place you have been dreaming of visiting this summer. Greece has everything you could desire for a fun family vacation, it offers a wide range of luxurious activities, a good deal of history, and a laid-back vibe. In addition, it offers incredible value for money and a wonderful choice of lovely hotels, such as The Ikos Oceania Hotel.
The Greek Islands consist of well over 6.000 islands with only 227 of them being inhabited. It is quite possible to never see the same Greek Island twice!
Experience the Timelessness of Greece
Many people feel as though the Greek Islands are the best way to experience the Mediterranean way of life. It gives many people a sense of how it would have been to explore the streets of Italy or southern France in the 1950's. Greece offers a timelessness that can not be found easily throughout the rest of the world, despite it being a tourist destination it never fees as though it is overcrowded or congested with traffic.
Of course, you are going to find those very busy resort areas, however, it is just as easy to take a few steps down the road and find your own private paradise
Much of Greece feels as though it has yet to be discovered! You can walk around a village and still find people sitting around drinking coffee and playing card games in the early morning. However, after just a few short hours, those streets will be empty as everyone has gone back inside for an afternoon siesta.
Greece is truly the location for a perfect family holiday. If you are traveling with children, understand that they are going to be totally adored by the locals.
Savour the Delicious Food
And of course, we need to talk about the food. Greece offers some of the healthiest and most delicious foods you could hope to encounter anywhere in the world. On the Greek Islands, it is not uncommon to enjoy fresh fish and salads anytime of the day. You can spend hours eating plates of fresh calamari, octopus, red mullet, whitebait, and sardines.
If you are going to be enjoying lunch or dinner in Greece, it is best to order up a large variety platter of Greek salads, cheese and spinach pies, grilled feta cheese, stuffed peppers and tomatoes as well as stuffed vine leaves. All of this food is incredible and by ordering this way, everyone is going to enjoy their favorites plus try something new.
You will also want to enjoy your meal mezze-style as it becomes a more social activity. When we share food it allows us the opportunity to interact with one another. We get the opportunity to talk and enjoy one another's company.
The Incredible Greek History
Greek history and myth are subjects that have help to ignite many children's imaginations. However, this same history and myth manages to truly come alive as you walk the islands and see the sights that you have only read and dreamed about.
From the very first time you gaze upon the Parthenon temple, climb up to the Acropolis in Athens or visit the home of the first Olympic Games at Olympia.
Greece has remained one of the top holiday spots for being of exceptional value. It is possible to feed an entire family for less than 45 euros and enjoy a luxurious boutique hotel experience for less than one would pay in France or Italy.
Chances are there will be no need to purchase a visa and if you get your airfare sorted out early enough, you can enjoy really low rates. No reason to wait any longer, start planning for your wonderful Greek holiday today. It will be an adventure you will not forget.